We estimate that since 2017, the business-to-business (B2B) digital advertising market in the US has grown by roughly $1 billion annually. Spending may be on the rise, but B2B companies have been slow to shift dollars to digital ads. Many still lack the foundational data and technology to successfully leverage digital.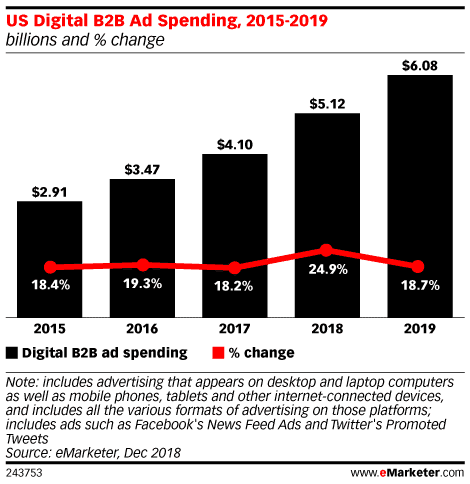 How much are B2B companies in the US spending on digital advertising?
This year, B2B companies in the US will spend $6.08 billion on digital advertising, up 18.7% year over year, according to our latest forecast.
What percentage of digital advertising is mobile vs. desktop for B2Bs?
While more than 70% of total US digital ad dollars will go to mobile formats in 2019, the B2B split isn't as mobile-heavy. In fact, we estimate US B2Bs will spend just 37.3%—$2.27 billion—of their digital ad dollars on mobile placements in 2019. The remaining 62.7% will be spent on ads appearing on desktop, laptop and other internet-connected devices. We do not foresee a tipping point where B2Bs will allocate more than half of their ad spend to mobile.
How is LinkedIn impacting the B2B digital ad market?
LinkedIn accounts for roughly one-fifth of all US B2B digital ad dollars, making it a primary market growth driver. We forecast that $1.25 billion will go to LinkedIn in 2019. On LinkedIn, the mobile share of spend is on par with desktop/laptop, making it a good place to reach more mobile buyers.
What is driving growth in US B2B digital advertising?
Many B2B companies are still buying media directly through publishers and finding success with content sponsorships, native ads and podcasts. As measurement improves and companies become more organizationally aligned (i.e. getting marketing and sales teams on the same page), investment in digital ads will grow. Advanced B2Bs are being more deliberate in their audience targeting focusing on account and people-based targeting, programmatic and personalized content sequencing.
What challenges must B2B advertisers still overcome?
Advanced tactics are only possible with the right foundation of tech and data. Therefore, hiring the right skill sets internally and focusing on data and technology are hurdles that must be overcome for buyers to pump more ad dollars into many of the aforementioned digital advertising tactics.
WHAT'S IN THIS REPORT? This report features our December 2018 update dollars on digital advertising, up 18.7% from 2018, according to our B2B US digital ad spending forecast. It also explores the trends that are driving (and preventing) increased future spend.
KEY STAT: This year, US B2B companies will spend over $6 billion according to our December 2018 forecast.
US B2B Digital Ad Spending in 2019: eMarketer's Forecast and Estimates
In 2019, B2Bs in the US will spend $6.08 billion dollars on digital advertising, up 18.7% year over year, according to our December 2018 forecast. In 2018, US B2Bs spent $5.12 billion, with a growth rate of 24.9% from 2017, when they allocated $4.10 billion to digital advertising efforts.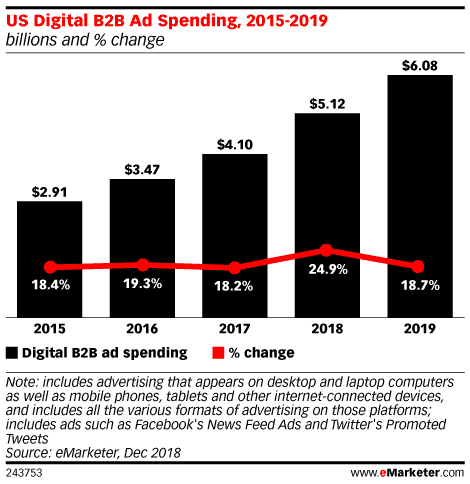 We are now more bullish on growth in the US B2B digital market than in our inaugural forecast from November 2017. In fact, we increased our estimates by more than $500 million from the previous year (in line with our larger digital ad spending estimates). Further, the 25 experts we spoke to for this report emphasized that the market would see double-digit growth in 2019, bolstered by trends like content advertising, podcasts, better measurement and more advanced data practices and targeting.
Considering B2B digital ad spending as part of the broader US digital advertising landscape, spend contribution in B2B represents just 4.6% of the total digital ad market and only 2.5% of the total media ad spending pie.
What's Driving Spend?
For most B2B advertisers, digital ad executions are minimal. April 2018 research from Bop Design found that only a quarter of US B2B marketers used pay-per-click (PPC) ads, and a mere 15% used paid social media to get leads. As for nurturing those leads, that same study found that only 20.3% of respondents used retargeted ads. More common tactics for US B2B marketers included personalized calls or emails (79.7%), email campaigns (64.4%) and content marketing offers (49.2%).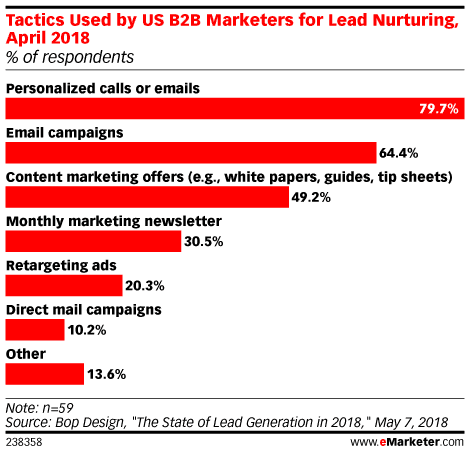 Other studies showed similar findings: Digital advertising isn't a major channel for B2B marketers. August 2018 research from Informa Engage found that banner ads were only a top marketing tactic in 2018 for 54% of US B2B professionals. Email marketing, industry events, social media and content marketing were more prevalent.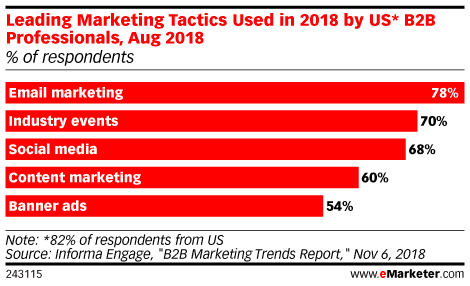 "There is a long standing belief that if you are targeting a B2B buyer with advertising, you only need to be in a few major trade publications or go to a handful of tradeshows," said Joseph Leichman, senior director of buyer development at programmatic advertising vendor OpenX.
Still, many experts notice more B2B customers harnessing digital advertising as part of their marketing strategy. "The standard B2B playbook of email and search is evolving," said Jon Schulz, CMO of ad tech firm Viant. Schulz sees other B2Bs "getting out of the rut of only leveraging certain formats or channels" by using digital ads to reach their audience.
Additional factors expected to drive investment in B2B ad spending through the forecast period include:
Greater emphasis on reaching the right audiences. Just as in our 2017 report, B2B advertisers are still working to be more audience-centric in their approach to digital media buys. The focus for more cutting-edge advertisers is on who they want to reach; specific channels and formats are less pertinent. Budgets, therefore, tend to migrate to the best-performing channels, based on data-driven targeting and automated delivery.
And more weight on doing that throughout the purchase journey. For B2B companies that are using digital advertising, an emphasis is being placed on how those ad experiences work across channels in the larger marketing mix and how they map the customer journey and funnel stages.
For example, marketers have historically turned to digital partners for bottom-funnel acquisition strategies, according to Jay Bowden, a managing director overseeing tech B2B ad clients at Google. But he has noticed a shift recently: B2Bs have become more full-funnel in their approach to digital advertising. "They're using a wider variety of media touchpoints and thinking about having a conversation with their audience, nurturing them through the journey with appropriate content and messaging," he said.
Increased investment in content sponsorships, native and podcast advertising. There are plenty of B2B advertisers still using traditional mechanisms to buy their digital media. This includes working directly with an online publisher.
At publisher Financial Times, Laura Milsted, global advertising director for B2B and insights, sees many B2Bs increasing spend on digital ads focused on content and native placements as they seek to create "thought leadership … [and] deep research-led content for senior business audiences."
Many brands interviewed for this report agreed that podcasts will be a part of their mix in 2019 as the medium reaches a captive audience while providing scale (albeit not to a very targeted audience). These placements are usually more direct response-oriented than awareness plays.
Max Altschuler, vice president of marketing for Outreach, for example, said podcast ads are integral and can be better than a content placement with a publisher or even a dedicated sponsored email because, "we get the added benefit of having the subject matter expert and trusted advisor, in the host, being an influencer of sorts for our company."
Measurement Also Vital to Justify New Dollars
One factor tempering growth through the forecast period is measurement. Or, more specifically, the continued confusion surrounding measurement as it pertains to larger company goals.
When B2Bs have an idea of what is and isn't working, it becomes easier to increase spend. Better attribution allows B2Bs to know which tactics create the best outcomes and guide future budgets.
Proving the value of one's investment is critical to justify ad budget, but most B2Bs struggle with this in digital advertising. A February 2018 survey of B2B marketers in the UK and US from B2B Marketing found that roughly six in 10 respondents said unclear return on investment (ROI) was a hurdle when buying digital advertising. However, experts agree that there is a clear correlation between measurement efforts and budgetary increase.
With a much longer sales cycle and more complicated decision-making process than in the business-to-consumer (B2C) universe, B2B advertisers need to think both short- and long-term when gauging key performance indicators (KPIs) and ROI. Tracking what is happening in the CRM and understanding how buyers and accounts are moving through the purchase funnel is a major factor in getting measurement right.
Demandbase and Rollworks tell their clients to combine both leading and lagging measures to show digital advertising's ROI:
Leading metrics are the initial impact that an advertising program delivers, such as clickthrough rates, website traffic and engagement. They show an early read on advertising's effectiveness. If, for example, ads are running and there isn't a website traffic increase, then something is wrong and the program should be refined. Leading metrics are opportune for testing and optimizing advertising in real-time.
Lagging metrics are the more revenue-focused, long-term indicators of success, such as how many pipeline opportunities came from advertising, how much pipeline was generated and the close rate or velocity on those deals. These measures are closely aligned with business goals. The challenge is with a longer sales cycle; it can take six, 12 or even 18 months to generate the data necessary to get these KPIs.
Mobile Ad Spending
We currently estimate that US B2Bs will spend $2.27 billion, or 37.3% of their digital ad dollars, on mobile placements in 2019. (This is lower than our 2017 estimate of 41.5% for mobile in 2018). This year desktop, laptop and other internet-connected devices will retain the majority share of digital ad dollars ($4.81 billion), accounting for 62.7% of total digital B2B ad dollars.
Desktop's share of B2B ad spending continues to erode with each year, thanks to trends like people-based advertising and the rising use of social networks like LinkedIn, but we are conservative in our estimates for how quickly mobile will eat into desktop and laptop numbers. We do not see a tipping point in sight where B2Bs will allocate more than half of their US digital ad spending to mobile ads.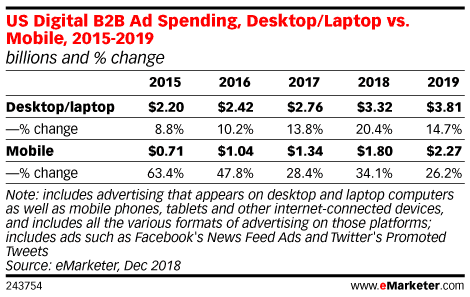 LinkedIn
LinkedIn dominates the B2B digital ad market in the US. We estimate that in 2019, $1.25 billion—roughly one-fifth of all digital B2B dollars in the US—will go to the business social network.
Advertisers on LinkedIn are also more evenly split in their mobile vs. desktop/laptop share of spend. For example, LinkedIn accounts for 20.9% of mobile spend share and 20.3% of desktop/laptop spend share. LinkedIn's share of B2B mobile ad dollars beats out desktop dollars (by only 0.6%). LinkedIn remains a good testing ground for brands as they consider how to best execute mobile ad experiences to reach B2B buyers who are generally on their personal device, in a consumer mindset.
While the majority of LinkedIn advertisers are B2B companies, the network still serves B2C brands, however. Further, LinkedIn offers advanced non-cookie targeting—something other firms cannot do—which also helps even out device share for B2Bs.
Content Provided by eMarketer.